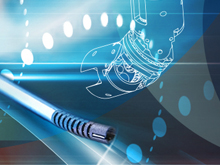 Every year researchers, clinicians and engineers are invited to submit papers on a range of topics. The expert Programme Committee reviews all papers by rating them against particular criteria.
The Symposium is in its tenth year. It is now being held over four days to include workshops on various clinical and technical topics and a two-day main conference with participation of invited/keynote speakers, paper authors and delegates from leading medical, science and technology institutions.
Topics to be addressed by the 2017 symposium include, but are not limited to:
Co-operative Control and Perceptual Docking 
Clinical highlights in Urology, Cardiac Surgery, Thoracic Surgery, General Surgery, Gynaecology, ENT, Orthopaedic and Paediatric Surgery 
Economic and general consideration of robotic surgery
Emerging, multi-specialty applications of robotic technology 
Flexible Robotics 
Human robot interaction and ergonomics 
Intra-operative imaging and biophotonics for robotic surgery 
Mechatronic designs for medical robotics 
Medical image computing and computer assisted intervention 
Medical robotics for NOTES 
Microbot design and applications 
Neurosurgery
Smart Instruments 
Surgical navigation and augmented reality systems 
Surgical simulation, training and skills assessment 
All submissions will be reviewed by members of the program review committee and assessed for quality and best means of presentation.